The canny edge detector is likely the most commonly implemented edge detection algorithm. It's generally a nice filter to write when starting with image processing as it is not much complicated and provide kind of useful results in some situations.
That's why I took a few days to implement it in FFmpeg. Following is a screenshot of a Lynx video by Stefan Sobotta filtered with the edgedetect filter: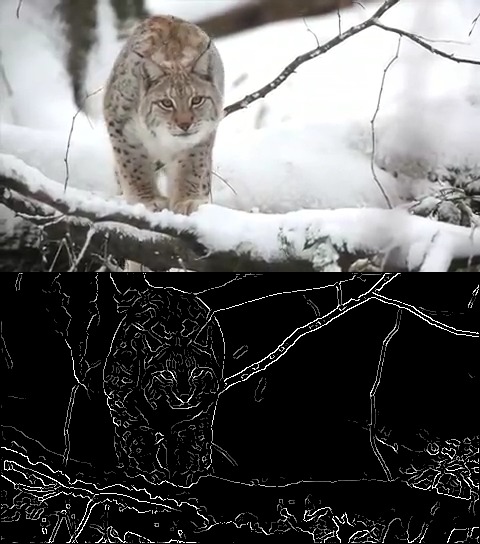 Command line used: ffplay ~/samples/Lynx.mp4 -vf 'split[b], pad=iw:ih*2[src], [b]edgedetect, [src]overlay=0:h'
For those not familiar with the algorithm, it is essentially a few successive filters applied on a gray scale image:
apply a gaussian filter to reduce noise (it blurs the image)
compute the gradients, and the directions for the next step (see Sobel)
non maximum suppressions
double threshold to keep only the interesting values
For more details, I'd recommend the Canny edge detector Wikipedia page and its external links.
This article will focus on the second step, and especially the directions computation, since it involves some little math and can be expensive. The other steps are either trivial or widely documented so they won't be the topic of this post.
Direction computation
This step really is in my opinion the most interesting one. But first we need some little understanding of this Sobel operator. In input we have a blurred image, and for each pixel we get a gradient value G = |Gx|+|Gy|, where Gx and Gy are defined using 6 surrounding pixels (both use a 3x3 kernel with 3 zero values).
The kernel for Gx is: